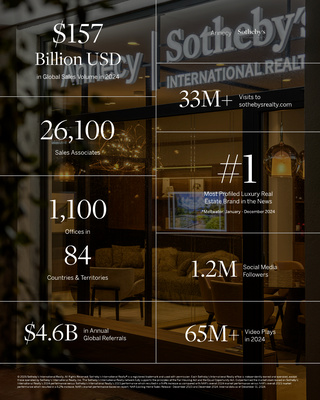 Founded in 1976 as a real estate department of Sotheby's House, Sotheby's International Realty® has become the benchmark in prestigious real estate. (To learn more about this exciting story, it's here: Our history



This prestigious heritage, which has evolved in close collaboration, enriched by a presence in more than 70 countries through 990 agencies and 22,000 employees, gives us access to the largest file of qualified and wealthy clients in the world.

Whether in the Middle East, Europe, the USA, Asia-Pacific or Africa where luxury criteria are systematically applied, Sotheby's is the preferred partner. This recognized legitimacy makes it possible to display more than 40,000 mandates, including the most beautiful properties in the world.

To find out more about the Sotheby's International Realty network, click here: Sotheby's International Realty.com



In 20 years, the French branch has naturally established itself as the undisputed leader by offering more than 5,000 properties for sale and rental. An unprecedented coverage on the French real estate market, which is growing every year.